Experience Authentic Savoyard Cuisine
Welcome to the French Alps! Skiing in the French Alps is an incredible experience, and one of the best ways to experience the area is through its local Savoyard cuisine. In particular, the Savoyard food in the French Alps has been enjoyed by locals and visitors alike for centuries.
Savoyard food is a collection of traditional dishes that have been perfected over time. It is well-known for its rustic flavors and hearty ingredients, making it the perfect comfort food for cold days spent on the slopes. The most popular dishes include Tartiflette, a creamy potato bake with Reblochon cheese, lardons and onions; Fondue Savoyarde, a molten cheese fondue served with cubes of bread; and Raclette, a cheesy dish where melted cheese is scraped over potatoes.
For those who are looking for something different, there are also a variety of classic dishes like Coq au Vin, a rich stew of chicken and vegetables cooked in red wine; Bœuf Bourguignon, a beef stew cooked with onions, mushrooms and bacon; and Lapin à la Moutarde, a mustard-flavored rabbit stew.
At Huski, we have an extensive range of Savoyard dishes to cater for all tastes and dietary requirements. Our chefs are all restaurant-trained and we make all our food from scratch in our kitchen in Bourg St Maurice. You can select dishes from our a la carte menu, choose one of our set menus for 3 to 6 days, or even opt for our bespoke service and have a chef come and prepare the food just for you.
We know that when you're on holiday, the last thing you want to do is cook. That's why with Huski, you can enjoy the best of Savoyard cuisine without having to lift a finger. So why not make the most of your ski holiday and tantalise your taste buds with delicious, hand-made food.
Our Savoyard Cuisine Favourites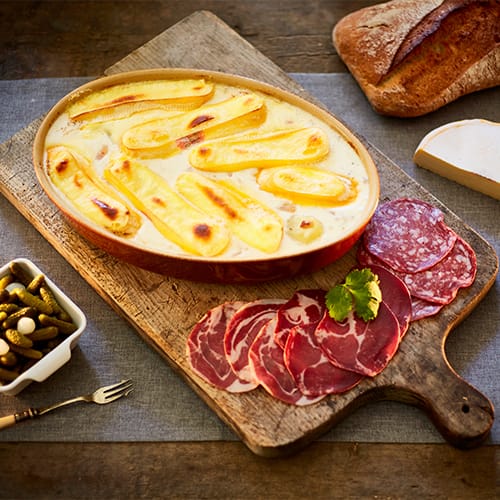 The alpine classic. A delicious blend of onions, tender potatoes, crispy lardons and creamy reblochon cheese.
Our vegetarian take on the traditional tartiflette. Layers of potato, courgette and sundried tomato in a creamy white wine sauce.
Succulent chicken pieces in creamy tarragon and Dijon mustard sauce topped with a Gruyere crust. This is our best selling chicken dish, and perhaps the nicest dinner you will eat on your skiing holiday.
A traditional dish of local rabbit in a delicate mushroom, dijon mustard & cream sauce